Are you struggling to select the perfect open source Learning Management System (LMS)? Wondering which is the best open source LMS? You're in the right place!
Open source LMS are platforms that are freely accessible to everyone and can be modified by anyone. Hence, such LMS platforms give you the full flexibility to customize your LMS site.
Fortunately, you can find several open source LMS platforms today. However, with so many choices, finding the right one can be overwhelming.
That's why we've come up with this article. In this article, we're going to simplify your decision-making process by comparing the top 8 open source LMS platforms.
So, let's dive in to discover the best open source LMS platforms that suit your organization's needs.
In a hurry? Have a glance at the top three open source LMS:
Top Picks
1st
Masteriyo LMS
Features:
Created Using React JS
Distraction-free Mode
Works with any Theme
Incorporates ChatGPT
2nd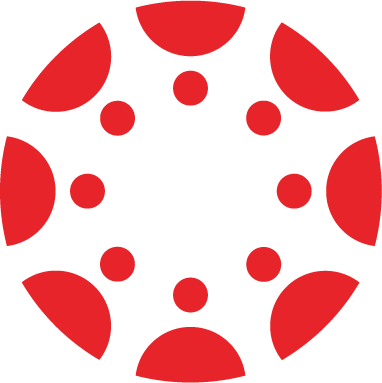 Canvas
Features:
Responsive Design
Cloud-based
Mobile Apps Available
Accepts Audio & Video Content
3rd
Moodle
Features:
Highly Flexible
Scalable to any size
Offers Addons and Plugins
Robust, Secure, and Private
What is an Open Source LMS Platform?
Open source refers to any program or software whose source code is publicly available. Hence, the code is accessible easily for collaboration, modification, and distribution.
One such example is WordPress. It's a free, open-source website-building platform that allows you to build a website easily.
LMS, an acronym for Learning Management System, is a software application that lets you create an online course or an online learning website.
It's basically for storing educational materials like video lessons, presentations, courses, etc., and making them accessible to learners.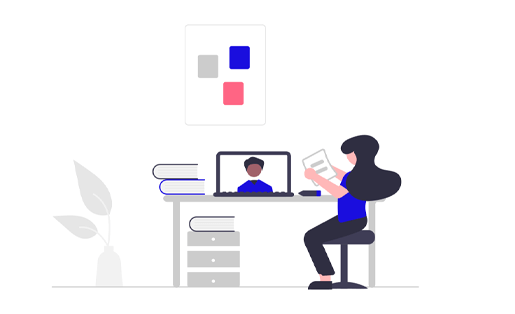 So, an open source LMS platform is a freely accessible learning management software that allows you to create an LMS website. You can use the software for free, modify it as per your need, and also redistribute the software with others.
Open-source software is licensed under the GNU General Public License (GNU GPL or GPL). It's a license for software that guarantees end users the freedom to share, study, run, and modify the software.
Examples of open source LMS include WordPress LMS, Canvas, Open edX, Moodle, and so on.
---
Open-source vs Closed-source LMS Platforms
Besides open-source, there are also other types of LMS software, like closed-source, proprietary, and commercial.
Those are the LMSs owned by people or organizations and can't be modified by other users. Also, they require you to pay some amount to use their service.
Thus, the open-source LMS has flexibility in almost all aspects compared to the closed-source LMS.
Some of the benefits of using an open source LMS over others are as follows:
Full control over your content
Allows you to maintain your brand integrity
Provides you with full development capabilities
Cost-effectiveness as the base software is available freely
Access to the community involved in providing valuable improvements
Best of all, the open source LMS can adapt to the changing world of eLearning technology, providing you with complete control of your content.
---
How to Choose the Right Open Source LMS Platform?
Before choosing an open source LMS platform, there are a few things that you need to consider. So, let's find out what they are:
Know Your Niche: LMS is used for educating, training, onboarding, and more. As per the niche, different LMSs are built. So, if you want to use the LMS for training your employees or use it solely for teaching students, choose the LMS accordingly. Although popular LMSs these days support almost all niches, it's better to be alert.
User Interface: The user interface is one of the important aspects of LMS for both teachers and learners. If the user interface is simple and easy to navigate around, your website's visitors become your regular audience. At the same time, a good user interface also makes it easy to get started.
Audience Size: LMS supports a range of audiences; while some are suitable for small audience sizes, others are suitable for large ones. So, know your audience size and choose the LMS to fulfill your demand.
Technical Requirements: Technical requirements include many things like supported content types, grading systems, analytics, certifications, customer support, security, and so on. Therefore, you must first list what you want in your course or training and choose the LMS that offers the same.
For a detailed guide, please read our article on must-have learning management system features.
Now, let's dive into the list of the eight best open source LMS platforms.
---
8 Best Open Source LMS Platforms 2023 (Compared)
Masteriyo LMS is an open-source WordPress LMS plugin for creating online learning websites easily.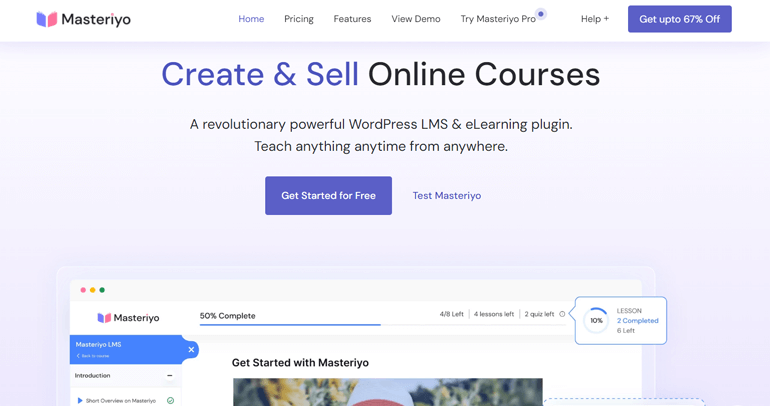 Created using the modern React JS, the plugin offers the most user-friendly experience to you as well as the learners on your site.
Following WordPress.org's guidelines, Masteriyo LMS is fully open-source free software released under the General Public License (GPL).
This means the plugin is freely available for everyone to use, modify, and redistribute without paying a penny.
It seamlessly incorporates OpenAI's ChatGPT, facilitating the course creation with the help of artificial intelligence.
You can download the plugin from WordPress.org or Masteriyo.com and install it on your WordPress site. Meanwhile, if you don't have a WordPress site setup already, you should do that first.
Don't worry. It's pretty simple – first, register a domain name and choose a reliable WordPress hosting like Bluehost or Kinsta. Then, you can install WordPress on your hosting account.
Similarly, install the best WordPress LMS theme. After that, you can set up Masteriyo LMS and start using it to have your LMS site ready in no time.
Key Features
Drag-and-drop course builder
Interactive quiz builder available
Allows to sell courses with built-in support for payment gateway
Works seamlessly with any WordPress theme
Certificate builder available to award attractive certificates to learners
Allows to add sections and lessons in the course
Pros
Customizable and extendable with addons
Distraction-free mode to keep students engaged
Progress bar available to show learners their progress on the course
No third-party plugin dependency
Cons
---
Canvas is an open source LMS that is built to make the process of teaching and learning easier for all. It supports customization and is adaptable and reliable.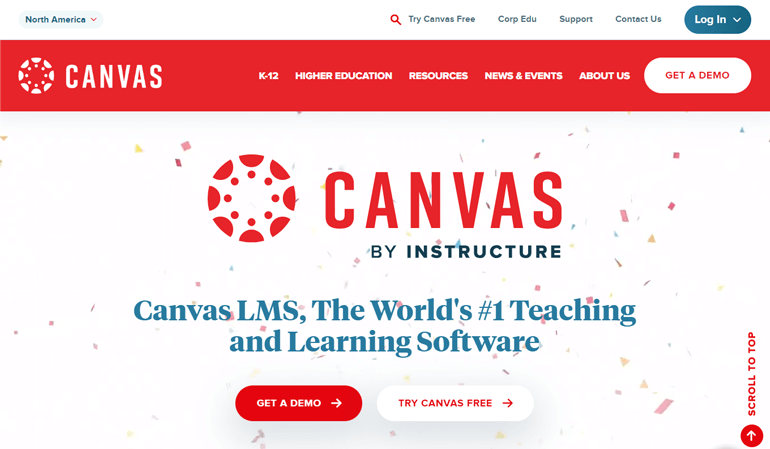 It also has top-rated mobile apps that are accessible to both teachers and students. It gives them access to what they need on the go.
Besides, the community powered by Canvas is one of the largest, most connected, and most active, where you can communicate with other users.
Canvas lets you add video and audio and allows you to interact face-to-face with the learners. Its responsive design makes the system run across all screen sizes without any complication.
Offering everything in a single place, one can get all the course materials, grades, communication tools, and actionable insights right from Canvas LMS.
Key Features
Interactive analytics available for admin
99.9% system uptime
Easy upload and sharing of information
Provides personalized learning
Canvas API available to link other apps and tools
Accepts unlimited file size for audio and video contents
Pros
Cloud-based LMS
A large number of options for customizations
Sends alerts/notifications for important events
Easy for third-party integration
Cons
Might be difficult to get started
Presence of some useless tabs might bother you
Frequent issues while navigating and editing
---
Next on the list of best open source LMS platforms, is Moodle – a customizable online learning management system.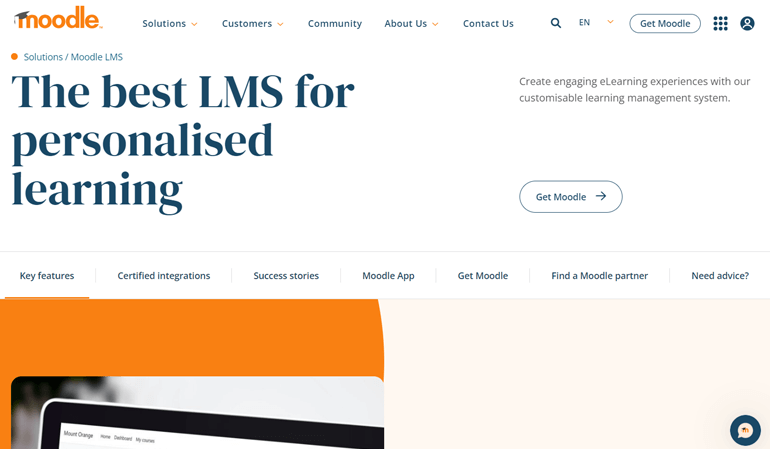 Developed in the early 2000s, it has improved teaching and learning outcomes with its feature-rich platform. It has powerful add-ons that you can integrate into your site.
It's suitable for K-12, higher education, and vocational training. Using the platform, you can implement a fully remote or blended learning approach.
Besides, it lets you use custom themes through which you can give the feel of your brand color and logo to your learners.
Also, you get complete control of everything, including data privacy and security to the site's functionality.
Key Features
Translated into 100+ languages
Offline access with Moodle app
Badges and certificates available
Generates custom reports and analysis
Calendar, messaging, and notifications for learners
Highly secure
Pros
Completely free
A large number of add-ons and plugins
Vast online community of user groups
Cross-browser compatibility
Cons
Might not suit a large mass of learners
The admin interface is quite difficult to get familiar with
Lacks flexibility while creating the course
---
Open edX is one of the most successful open source learning management systems trusted by top organizations like EDX, IBM, Microsoft, Harvard, MIT, etc.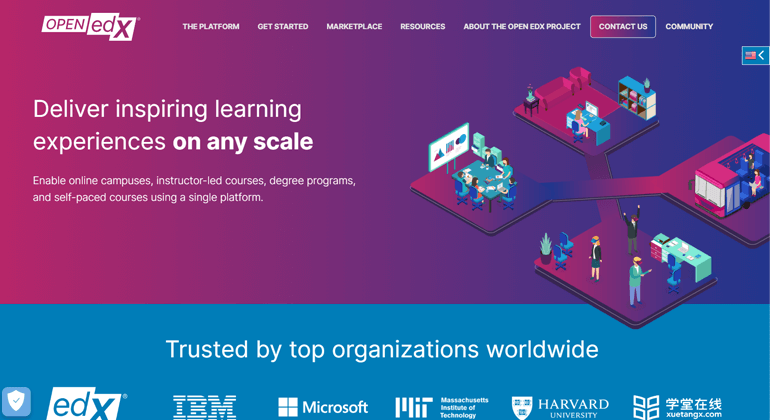 As of the date the article is written, it has deployed more than 50K courses through various sites worldwide. The platform supports 53 languages.
The LMS has a feature to review the content so that you can avoid errors before publishing. Besides, you can use interactive content like adaptive video streaming, animation, AR, VR, and more.
As mentioned in the official site of Open edX, the Times Higher Education World University report states that out of the top 10 universities, 9 use Open edX. This proves that the LMS is trustworthy and flexible.
Key Features
Customizable and easy to use
Real-time data analysis
Interactive forums and discussion boards
Cross-device compatibility
Supports live video conferencing
Allows to use in the cloud as well as on-premise
Pros
Wide choice of content types
Provides verified certificates on course completion
Let you create courses as well as degree programs
Cons
Limited third-party integration
Lacks course structure
---
Forma LMS is a modern and responsive open source LMS with an engaging user interface. It's specially designed to deliver online training courses or corporate training for companies.
You can easily organize your courses into multiple categories, catalogs, and coursepaths. Similarly, it provides the opportunity to manage multiple clients and brands with custom layouts.
Additionally, you can integrate it with any intranet software and extend the functionalities using a wide range of plugins.
You can easily create custom reports and add as many features as you require to meet your needs. It offers plenty of configuration and automation options for course management.
Key Features
Complete control of the courses
Allows to generate PDF certificates after course completion
Allows to create webinars and virtual classroom
Integrates eCommerce features
Automatic notifications for important events like user registration
Easy to create countless custom reports
Pros
Responsive layout
Easy to customize and integrate
Suitable for businesses of all sizes
Cons
Might be difficult to integrate different languages
Lacks behind in customer service
---
Open LMS, just like its name, is the open source LMS that empowers organizations and workplaces to meet their learning needs.
It's available in two forms: Open LMS EDU (LMS for higher education), and Open LMS Work (LMS for Business).
It opens the door of flexibility for you to adapt open source LMS without merchant and commitment pressure.
Open LMS also provides industry-leading customer support with the largest support team working 24/7.
Meanwhile, it hosts the clients on Amazon Web Service (AWS), which guarantees security and uptime for users worldwide.
Other sources like online resources library, community site, Open LMS Academy, and YouTube channel are also available to guide you.
Key Features
Moodle-based LMS platform
Easy integration with leading education-related products
Simple and intuitive user navigation experience
Personalized learning experiences
Full mobile and offline access
Scalable to meet the needs of any sized institution
Pros
Highly reliable
Quicker to get started
Continuous innovation
Cons
---
Oddo is another most loved open source learning management system with over 7 million users.
The platform lets you add all kinds of content to the courses, like videos, infographics, external links, etc.
At the same time, it provides access to over 1 million royalty-free images and graphics to make your content look more vibrant.
Quizzes, points, badges, and Q&A are other elements you can easily add to engage students and show their progress. This can lead to meaningful learning experiences and increased attention and focus of the learners.
You can also make learners engage with your community through forums, leaderboards, emails, and reviews.
Best of all, it lets you enhance your content by including external links at the conclusion, providing your students with supplementary resources.
Key Features
Self-paced learning available
Provides drag-and-drop interface
Quizzes and reviews available
Promote tool helps to optimize SEO by suggesting keywords
Analytics available for participation, feedback, and revenue reports
Students can instantly check their answers
Pros
Easy navigation with a simple interface
Robust features
Enough customization options
Easy third-party integration
Cons
Difficult to maintain
Long waiting time for support
Lack of proper guidance in documentation
Frequent bugs
---
Lastly, we have ATutor for the comparison among the best open source LMS platforms.
It's designed with accessibility in mind and a wide range of features to ensure more user participation.
It makes instructors easy to assemble, distribute, and import prepackaged content to conduct the online course.
For better security, it encrypts passwords, and forgotten passwords are reset instead of retrieving them through email.
You can also use CAPTCHA, email confirmation, and SSL for system security and user data protection.
On the other hand, users of ATutor have an inbox through which they can exchange private messages with other users. Not to mention, users can also export and save messages.
Key Features
Installation and update of the LMS instant
Provides individual content usage statistics
Allows to create work groups for various purposes manually
Content editor available in both HTML and plain text form
Allows to send bulk emails to course members and assistants
Developer documentation is available for those wishing to develop core features
Pros
Easy to install, configure, and run
Available in both open source and hosted version
Cons
GUI is old-fashioned
Supports only web platform
---
Wrapping It Up!
And that concludes our in-depth comparison between the eight best open source LMS platforms.
Each of the LMS options we've discussed possesses its unique strengths and capabilities, so take a moment to consider your specific requirements before making your choice.
We understand that choosing the ideal platform can be a daunting task, but after reading this article, you might have already chosen your favorite.
However, if you're seeking a user-friendly and cost-effective solution for creating a feature-rich education website, we recommend giving Masteriyo LMS a closer look.
This WordPress plugin simplifies the process and also offers budget-friendly premium versions.
If you're in the process of creating an LMS website with WordPress, don't forget to explore our article on creating an LMS website in WordPress.
For more of such articles, be sure to visit our blog page.
Also, you can follow us on Twitter and Facebook to stay updated about our latest content.
We value your input, so please feel free to leave a comment if you have any additional questions or suggestions. We're here to help you make the most of your LMS journey!
Disclaimer: Some of the links in the post may be affiliate links. So if you purchase anything using the link, we will earn affiliate commission.